I don't know what must to say for this video, its bad video or funny video, uhhmm maybe funny for us, but this are very bad happen for usher. Who don't know about usher, he is very good singer, every having concert always giving his best performance, but in this video he wanna showing chemistry with his fans, he take one of his friend on the stage and singing with her very romantic, but just few minutes the romantic are end, and become bad happen with usher, wanna to know what happen with him?? Let see and enjoy the video . . . . .
Bad Accident on Concert
Pics Gallery of Usher's Concert . . . . .

Usher Dance and Singing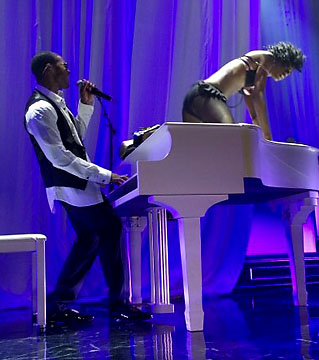 Amazing Performance, singing also playing piano
Usher's Big Eyeglass
Great Performance for Usher
Great Light Decoration at Usher Concert
Usher Singing on the Rain