"Bad Romance" is a song by American recording artist Lady Gaga, and is the lead single from her third extended play, The Fame Monster. The track was produced by Red One and was inspired by the paranoia that Gaga felt while touring from 2008 to 2009. After the demo version of the song was leaked, Gaga premiered the finished version at designer Alexander McQueen's show in the Paris Fashion Week, in October 2009. This was followed by the release of the cover art. Containing influences of German house-techno music, "Bad Romance" is a pop experimental record, according to Gaga.
Lady Gaga-Bad Romance Song
Lady Gaga Gallery . . . . . .

Musically, "Bad Romance" features a spoken bridge and full-throated chorus, singing the lyrics that address the situation of being in love with one's best friend. The song has elements of the music from the 1980s and the 1990s, and was written by Gaga while touring. The majority of critics praised the song, comparing it to Gaga's second single, "Poker Face" (2008). After its release, "Bad Romance" was a commercial success, reaching number one on the UK Singles Chart, Irish Singles Chart, Canadian Hot 100 and the Swedish, German, Austrian and Danish charts, while peaking at number two in countries such as the United States, Australia and New Zealand.
The accompanying music video features a surreal white bathhouse, where Gaga is kidnapped by a group of supermodels who drug her, and sell her to the Russian Mafia for sexual slavery. The video received positive response for its artistic treatment and visual imagery; critics complimented its provocative and symbolic plot. It was nominated in 10 categories at the 2010 MTV Video Music Awards, eventually winning seven awards, including Best Dance Video, Best Female Video, Best Pop Video and Video of the Year. The video also received a Grammy nomination in the Best Short Form Music Video category.
Gaga has performed "Bad Romance" on several television shows, including Saturday Night Live and Gossip Girl, as well as award shows such as the 2009 American Music Awards. It was the closing song of Gaga's The Monster Ball Tour, during which she performed it while standing inside a giant gyroscope. Rolling Stone ranked the song at number nine on its list of the "25 Best Songs of 2009". On December 1, 2010, "Bad Romance" received a Grammy nomination for Best Female Pop Vocal Performance.
Lady Gaga Unique Make Up and Stylish
Lady Gaga Bad Romance Song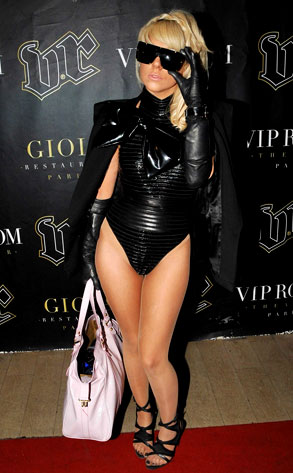 Lady Gaga Black Costume Concept
Lady Gaga Unique Eye Glass
Lady Gaga Blond Hair
Lady Gaga Sexy Pose