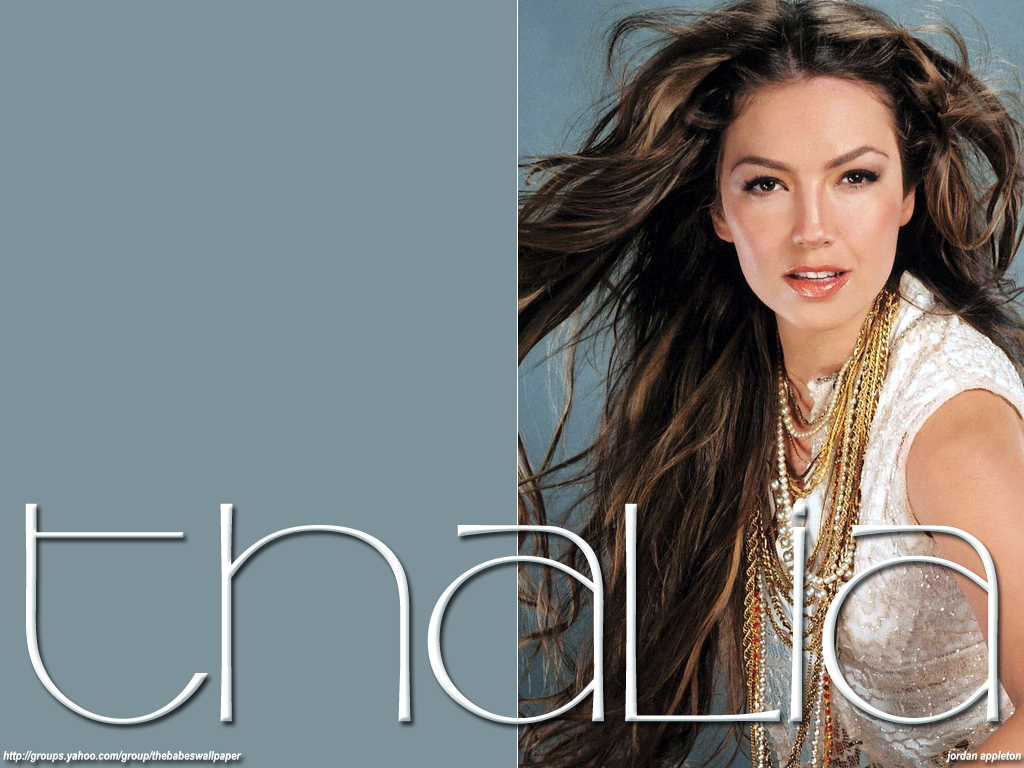 Ariadna Thalía Sodi Miranda (born August 26, 1971), known simply by the mononym Thalía, is a Mexican singer and actress. She has sold over 40 million albums worldwide.She has sung songs in Spanish, English, French, Portuguese and Filipino. As well as singing in those languages she speaks Spanish, English, and French.
Thalía achieved worldwide success in music with her 1997 album Amor a la Mexicana, which is her best-selling up to date. Thalía's first studio album to be released globally was En éxtasis and the album included her first international hit, "Piel morena".
Thalía's number-one hits also include "I Want You", "Entre el mar y una estrella", "No me enseñaste", "¿A quién le importa?", "Tú y Yo", "Cerca de ti", "Amar sin ser amada", "Amor a la Mexicana", "Arrasando" and "Equivocada".
In 1990, Thalía returned to Mexico and released her first solo album, self-titled Thalía. Produced by Alfredo Diaz Ordaz, Thalía released the album through Fonovisa Records. She received a 2× Gold certification the following year in Mexico.The album spawned the singles Un Pacto entre los Dos, Saliva, Amarillo Azul, and Pienso en Ti. This album was highly controversial, especially for the singles "Un Pacto entre los Dos" and "Saliva", which were banned by several radio stations in Mexico, due to their suggestive themes.
Changes came in 1995 when she moved from Fonovisa to EMI Latin and released her label debut, En éxtasis, her fourth studio album and her first record for EMI, featuring her first major international hit, "Piel Morena". The album was produced with the aid of celebrated producers such as Emilio Estefan (husband of the famous Cuban singer Gloria Estefan) and Óscar López. The album became her first international success, being recognized with multiple gold and platinum records.
On September 28, 2010, a new edition of Primera Fila was released, subtitled "Un Año Despues". The first single "Estoy Enamorado (Karaoke Version)" was released on August 16, 2010. The second single is "Enséñame a Vivir (Dance Remix)", released on September 6, 2010. This new edition contains two new songs: "Ay, amor", originally performed by Mexican pop group Flans and "Pienso en Ti", a new version of the song which originally appeared on her 1990 debut album Thalía. Two remixes called "Enséñame a Vivir (Dance Remix)" and "Equivocada (Bachata Version)" are also included.
Thalia was cast in a supporting role in the 1986 telenovela "Pobre señorita Limantour", beginning her collaboration with Televisa. In 1987, she went on to star in her first major role for Televisa in the 1987 teenage drama Quinceañera, co-starring Adela Noriega, Quinceañera won the "TV y Novelas" award for Best Telenovela of the Year in 1988. In 1989, Thalía got her first lead role in "Luz y Sombra", which was not very successful. In 1992, she starred in "María Mercedes" for which she won a "TV Y Novelas" award as Best Young Actress in 1993. This was also the first in a series of three telenovelas dubbed by the Mexican press as "Las Tres Maria's". The second telenovela in the installment was "Marimar" in 1994, followed by the third and final installment in the series "Maria la del barrio" in 1995. In 1999, Thalía starred in her last telenovela, "Rosalinda".