Mary Jane Blige
( January 11, 1971) is an American singer-songwriter, record producer and actress. A recipient of nine Grammy Awards and four American Music Awards, Blige has recorded eight multi-platinum albums. She is the only artist with Grammy Award wins in Pop, Rap, Gospel, and R&B. Blige has received the World Music Legends Award for combining hip hop and soul in the early 1990s. She was ranked number 100 in the list of 100 greatest singers of all time by Rolling Stone magazine.Blige was born in the Bronx, New York. She is the second of four children born to parents Cora, a nurse, and Thomas Blige, a jazz musician. Blige's mother was an avid fan of R&B/Soul music and constantly spun Aretha Franklin, Gladys Knight, Patti Labelle, Chaka Khan, and Jean Carne records when Blige was a child. These artists had a profound impact on Mary J. Blige at a vey young age. Blige was taught to sing by her father. When Blige was four, her father abandoned the family.At the age of five, Blige was molested by a family friend.Production for Blige's debut album began in 1992, with Sean "Puffy" Combs, who was at the time a 19-year-old A&R executive at Uptown, selected as the executive producer of the project. When first introducing Mary J. Blige to Uptown Executives at a convention, Sean Combs originally nicknamed Blige the "Queen of Ghetto Love;" however, Andre Harrell, Combs's supervisor, found the name unsatisfactory and subsequently dubbed her the Queen of Hip-Hop Soul."You Remind Me", the album's first single, peaked at number one on the R&B singles chart that summer. The second single, "Real Love", was released in the fall. It too topped the R&B singles chart, and became Blige's first top ten Hot 100 single, peaking at number seven. Both singles were certified gold for their sales volume. More What's the 411? singles followed into 1993, including "Sweet Thing", a cover of Rufus's "Sweet Thing", and "Love No Limit". By the end of the year, What's the 411? had sold three million copies. Blige, meanwhile, released a hip hop single "You Don't Have to Worry". After the success of What's the 411, Sean "Puffy" Combs hailed the singer as "the queen of hip-hop soul". The name of her album, What's the 411? stems from her previous job as Directory Assistance operator.The album's success spun off What's the 411? Remix, a remix album released in December that was used to extend the life of the What's the 411? singles on the radio into 1994, as Blige recorded her follow-up album. With combined sales of over 5 million albums and singles from her debut album, Blige was the best selling female artist on the Uptown label.On November 29, 1994, Uptown Records released Blige's second album, My Life which was again overseen by Combs who also produced more than 50% of the album along with Washington DC native Carl "Chucky" Thompson (despite his having recently left the label), who with Thompson co-produced all but one of the album's tracks, and took over as Blige's manager. Unlike What's the 411?, Blige co-wrote a large body of the material, basing it on her personal life.On April 22, 1997, MCA Records (parent company to Uptown Records, which was in the process of being dismantled) released Blige's third album, Share My World. By now, she and Combs had dissolved their working relationship. In his place were the TrackMasters who executive produced the project along with Steve Stoute. Sharing production duties were producers Jimmy Jam and Terry Lewis, R. Kelly, Babyface and Rodney Jerkins.
On December 14, 1999, the album was re-released as a double-disc set. The second disc was enhanced with the music videos for the singles "All That I Can Say" and "Deep Inside" and included two bonus tracks: "Sincerity" (featuring Nas, Andy Hogan and DMX) and "Confrontation" (a collaboration with hip hop duo Funkmaster Flex & Big Kap originally from their 1999 album The Tunnel). The Mary album was critically praised, becoming her most nominated release to date, and was certified double platinum (selling over two million in sales.) It was not as commercially successful as Blige's prior releases, though all of the singles: "All That I Can Say", "Deep Inside", "Your Child", and "Give Me You" performed considerably on radio. In the meantime, MCA used the album to expand Blige's demographic into the nightclub market, as club-friendly dance remixes of the Mary singles were released. The club remix of "Your Child" peaked at number-one on the Billboard's Hot Dance Club Play chart in October 2000.On August 28, 2001, MCA released Blige's fifth studio album, No More Drama. The album's first single, "Family Affair" (produced by Dr. Dre) became her first number-one single on the Billboard Hot 100, where it remained for six consecutive weeks. It was followed by two further hit singles, the European only single "Dance for Me" featuring Common and the Jimmy Jam and Terry Lewis-produced title track (originally recorded for the Mary album), which sampled "Nadia's Theme", the piano-driven theme song to the daytime drama The Young and the Restless.On August 7, 2008, it was revealed Blige faced a US$2 million federal suit claiming Neff-U wrote the music for the song "Work That", but was owned by Dream Family Entertainment. The filing claimed that Dream Family never gave rights to use the song to Blige, Feemster or Geffen Records. Rights to the lyrics of the song used in an iPod commercial are not in question.Blige returned to performing in January 2009 by performing the song "Lean on Me" at the Presidential Inauguration Committee's, "We Are One: The Obama Inaugural Celebration at the Lincoln Memorial". Blige also performed her hit 2007 single, "Just Fine", with a new intro at the Neighborhood Inaugural Ball after Barack Obama was sworn in on January 20, 2009. Blige appeared as a marquee performer on the annual Christmas in Washington television special.Rolling Stone revealed the tracks likely to make the final cut of Mary's tenth studio album are the Jerry Wonder-produced "Feel Inside" and "Beautiful Scars," a ballad by Diane Warren. Also describing the album as retro with lots of live instrumentation and soul samples. Mary has also teamed back up for production from long time collaboraters Jimmy Jam & Terry Lewis and Babyface.MTV.com revealed that the album titled My Life II, The Journey Continues, will be released September 3, 2011.The LP, recorded in Los Angeles and New York City, sees Mary looking toward the future while acknowledging the past. "From me to you, My Life II… Our journey together continues in this life," explained Mary. "It's a gift to be able to relate and identify with my fans at all times. This album is a reflection of the times and lives of people all around me." The album will aso feature production from Kanye West and The Underdogs.In February 2007, Blige guest-starred on Ghost Whisperer, in an episode called "Mean Ghost", as the character Jackie Boyd, the school's cheer leader coach grieving for the death of her brother and affected by the ghost of a dead cheerleader. The episode features many of Blige's songs. In August 2007, Blige was a guest star on Entourage, in the role of herself, as a client of Ari Gold's agency. In October 2007, Blige was also a guest star on America's Next Top Model, as a creative director for a photo shoot by Matthew Rolston. In May 2009, Mary made a guest appearance on 30 Rock, as an artist recording a benefit song for a kidney. Blige also had a supporting role in Tyler Perry's Movie I Can Do Bad All By Myself, which was released in September 2009.
Mary J. Blige - Be Without You

Mary J. Blige With Blond Hair Style
Mary J. Blige discography
1992: What's the 411?
1994: My Life
1997: Share My World
1999: Mary
2001: No More Drama
2003: Love & Life
2005: The Breakthrough
2007: Growing Pains
2009: Stronger with Each Tear
2011: My Life 2: The Journey Continues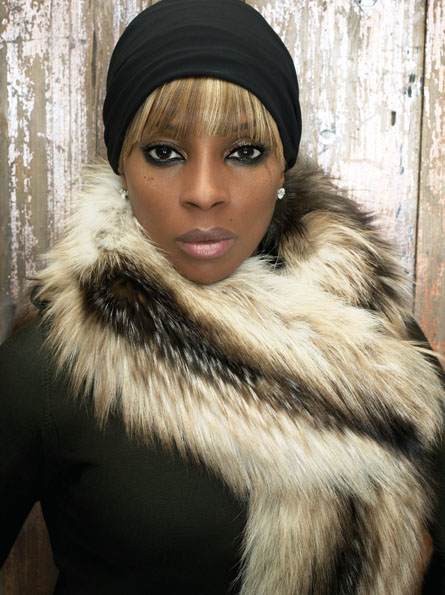 Mary J. Blige Has Sharped Eyes
Remember that incident, when our favorite hip hop diva Mary J Blige went in on her husband Kendu. Well I'm hearing it could be because Mary is suspicious of her husband Kendu's relationship with one of his artist Laneah.Sources are saying that that Kendu (who is the head of Mary's MATRIARCH RECORDS) and Laneah have a "very strong" personal and professional relationship, and Mary suspects that there could be something MORE.. Also they say Kendu was married with children and Mary broke up his home and we all know how karma is. Mary recently went on a vacation to Australia with her mom instead of her husband Kendu also there was no sign of her wedding ring.Word of advice to Mary if you think he's cheating then he is and if you don't speak up or leave him he will continue to use and abuse you. My thoughts: I don't blame you for slapping the shit out of him because I know it was for lack of respect. Maybe you can work things out if not get a divorce quick and cut him off!!