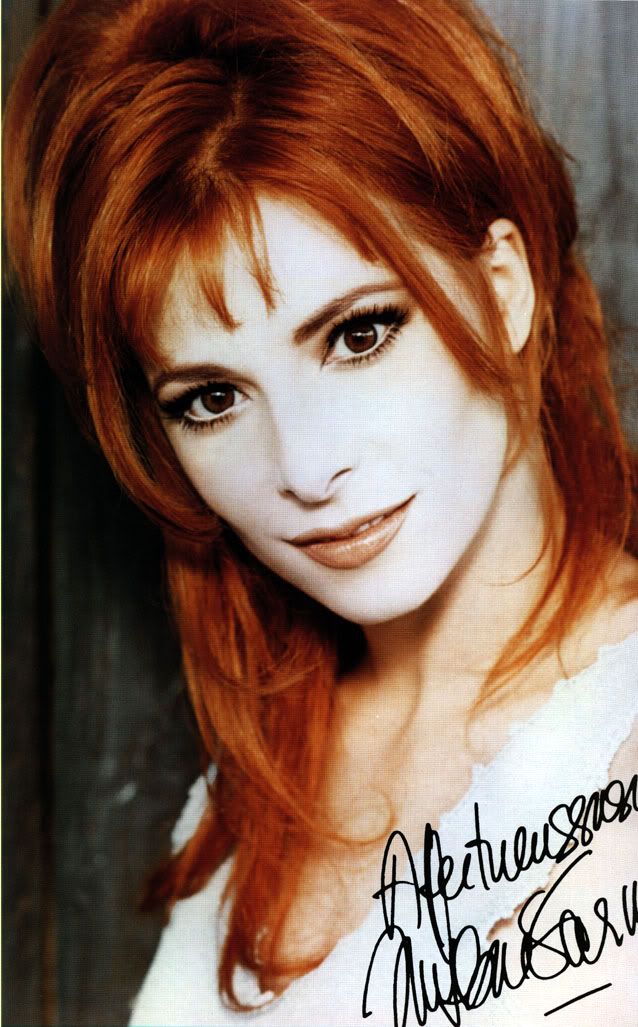 Mylène Farmer born Mylène Jeanne Gautier (born 12 September 1961) is a French singer, songwriter, occasional actress and author. She has sold more than 25 million records and is among the most successful recording artists of all time in France. She holds the record for the most number one hits in the French charts, with ten so far.
Farmer was born in Pierrefonds, Quebec, Canada. Her parents moved from France in the late 1950s as Farmer's father, Max, pursued an engineering contract on a dam. Her family returned to France when she was eight, settling in the Parisian suburb of Ville d'Avray. In her teenage years, Farmer was passionate about horse-riding, qualifying as a riding instructor at the equestrian centre in Saumur. At the age of 17, however, Farmer discovered acting and she abandoned the stables to take a three-year course at the Cours Florent, a drama school in Paris. Changing her name to Mylène Farmer as a tribute to her idol, 1930s Hollywood actress Frances Farmer, she began to earn a living as a model acting in several TV ads.

In 1984, Farmer met Laurent Boutonnat, a young film student also enrolled in Cours Florent, after replying to a newspaper ad for an actress for a small film he was working on. Farmer and Boutonnat became friends and forged a creative partnership, writing and producing the music. Boutonnat, whose ambition was to become a film director, was the force behind Mylène's videos.

Farmer gained fame with songs featuring shocking yet poetic lyrics, and explicit music videos: "Maman a tort" was about the love of a young girl for her female hospital nurse. "Pourvu qu'elles soient douces" contains hints of sodomy; the video, set in the 18th century, featured a caning. "Libertine" is said to feature the first full frontal nudity appearance by a singer on a major music video. "Que mon cœur lâche" was about love with condoms in the age of AIDS; the video for the song features a scene in which God tells Jesus he will not send him to Earth again because the last time "it was a disaster." The videos for "Beyond My Control" and "Je te rends ton amour" were censored at the time because of their sexual and violent content; later released in a video single, the latter one became the highest selling release of that kind in France.

Her most well-known songs include "Désenchantée", "Pourvu qu'elles soient douces", "Sans contrefaçon", "Libertine", "California", "C'est une belle journée", "Rêver", "XXL", "Les Mots" and "Oui mais... non".

Boutonnat and a young songwriter named Jérôme Dahan had written a song, and were auditioning to find a singer to record it. Farmer was eventually chosen and recorded the song, called "Maman a tort" (one of the few songs not to be written by Farmer herself), which was released to good success in March 1984. The video cost the modest sum of 5000 FR but caused a stir in the music world.However, the following single, "On est tous des imbéciles", was met with little praise.
Despite the relative success of her first two singles, Farmer, helped by Boutonnat, started working on her first album. Even if this album was almost entirely written and composed by Boutonnat, it was then that it was decided that Farmer would write the lyrics of her songs and Boutonnat would compose the music and direct the videos. "Libertine", the album's lead single, was released in March 1986 and set the tone for Farmer's musical style. The sensual, romantic lyrics were inspired by 19th-century literature. As for the video, which had a running time of more than 10 minutes, Boutonnat got inspired by the film Barry Lyndon and the novels of the Marquis de Sade, thus giving the video a cinematic style. Farmer, lit by candlelight, is shrouded in mystery and sexual ambiguity, it also was the very first video in which a French female singer appeared full frontal naked. The following single, "Tristana", also met success and the video also had a cinematic approach that impressed the audience. Meanwhile, another single from the album, Plus grandir, also shot in cinematic 35 mm, was released.

In 1988, Boutonnat and Farmer began work on her next album, Ainsi soit je... (a play on the French expression ainsi soit-il, meaning "so be it" or "amen"). This album, infused with a much darker atmosphere, is more sexually ambiguous than her previous one, featuring songs inspired by Mylène's favourite authors, including the French romantic poet Charles Baudelaire and the American horror writer Edgar Allan Poe. The album sold 1.8 million copies on the back of the Nº2 hit "Sans contrefaçon" as well as the first Nº1 hit of career, "Pourvu qu'elles soient douces". The other singles, "Sans logique" and title song were also hits in France, while the Juliette Gréco cover "Déshabillez-moi" became a fan favourite. Ainsi soit je... is the best-selling female album in France of the 1980s.

In spite of her drama courses, Farmer found it difficult to overcome shyness when in front of an audience. It was only after hesitation that she agreed to make a concert tour in 1989. After singing in a small venue in Saint-Étienne as a test, the singer came to Paris to perform at the Palais des Sports for a week in May. Following the positive response of the audience, she agreed for a full-scale 52-date tour through francophone Europe. A live album documenting the tour was released at the end of the year, titled En Concert, also containing a new song, "A quoi je sers", in which she questions the future of her career. The costumes of the tour were designed by the French designer Thierry Mugler.

It was also during this period that it was noticed that Farmer rarely gives interviews or appears in public, even though she did much more than she does today.

In the latter half of 2010, the media reported that Mylène Farmer would work with Line Renaud and Ben Harper in their respective new releases. After thirty years of absence, Renaud released her new album Rue Washington in November 2010, which contains the track "C'est pas l'heure," a duet with Farmer written by Farmer and Laurent Boutonnat. Also in November 2010, Australian band INXS released the album Original Sin as a tribute to the late Michael Hutchence. Farmer covered "Never Tear Us Apart" with Ben Harper in the album, featuring new lyrics in French written by Farmer.
It was announced surprisingly on 27 September 2010 that Farmer would be releasing a new single "Oui mais... non" to lead her next album in a press release by Polydor. The single was released to radio and debuted on Le 6/9 of NRJ on 29 September. Unlike all the previous musical works by Farmer, Laurent Boutonnat was not included in the production or composition of the single. Instead Farmer hired RedOne, known for his work with Lady Gaga to produce and write the music for the single. The single cover depicts Farmer's left profile with the words "Oui mais... non" tattooed on her upper chest. The single was released to digital downloading markets on 11 October and hit No.1 on the French Digital Chart. One week before the release of the album, the physical CD of "Oui mais...non" was released and helped Farmer garner her 10th No.1 single in the French Single Chart, yet again breaking her own record. Considering the music market crisis, it's her most successful single since 2002. The album title Bleu Noir was officially confirmed on 20 October, and was released on 6 December 2010. The album entered the French Album Chart at No.1, remaining there for three weeks in a row, and the global chart at No.14.

Bleu Noir topped the 9th position in the French 2010 charts with more than 300,000 copies sold in 3 weeks. It has sold so far over 500,000 copies, reaching diamond status within three months of its release. It also broke the record of best debut in the downloads top with 9,000 copies sold, which is quite a huge performance for the French DL market.

Mylene Farmer ft Khaled
Mylene Farmer Look so Beautiful on Red Hair
Mylene Farmer Black and White Photo
Mylene Farmer so Sexy
Mylene Farmer Beautiful Simple Make Up