Femme Fatale is the upcoming seventh studio album by American recording artist Britney Spears, set to be released on March 25, 2011 by Jive Records. The album was recorded between 2009 and 2011, with frequent collaborators Max Martin and Dr. Luke serving as the project's executive producers. "Hold It Against Me" was released as the lead single from the album, peaking atop of the charts in seven countries, including the United States and Canada. The album's second single, "Till the World Ends", premiered on March 4, 2011 on Ryan Seacrest's radio show and was released the same day.In June 2010, during an interview with Rap-Up, Danja commented that he was working with Spears in the pre-production of Femme Fatale. Darkchild, who was also reportedly working with her, said during a Ustream session in August 2010, "Britney fans are gonna be so happy in a few weeks", hinting about the release of new music. However, this was denied by Spears's manager Adam Leber, who stated, "No new music news right now....Wish people wouldn't mislead you guys with BS info. Not cool! PS- The guys that ARE working on Brit's next album ARE NOT talking about it..."Leber later spoke with Entertainment Weekly, calling the sound of the record "progressive" and "a departure from what you've heard." In November 2010, Dr. Luke announced that he would be the executive producer of Femme Fatale, along with Max Martin. In an interview with Rolling Stone, Spears explained that she had worked with Luke during the production of Blackout (2007), stating that "he was incredible back then and he has only gotten better over the years. About Martin, she commented that "he has been there since the beginning so there is such a huge level of trust. There is nobody I feel more comfortable collaborating with in the studio."On December 2, 2010, the day of her 29th birthday, Spears thanked her fans for the birthday wishes and announced, "I'm almost done with my new album and it will be coming out this March. I AM IN L-O-V-E WITH IT!"Following the announcement of the album's title and cover on February 2, 2011, Spears said about Femme Fatale,
Spears spoke to V about the sessions for Femme Fatale, commenting that she had been recording the album for two years.She explained that her idea initially was to make an album that was "fresh-sounding [...] for the clubs or something that you play in your car when you're going out at night that gets you excited, but I wanted it to sound different from everything else out right now." Spears also stated that she wanted to make sure Femme Fatale was completely different from Circus (2008), and that the album felt "really connected from start to finish." After "Hold It Against Me" was written, originally, Luke and Martin wanted to give the track to Katy Perry, but they later decided that "it definitely wasn't a Katy Perry record." They continued to work on the song with Billboard, and Luke commented that before giving the song to Spears, "I wanted to make sure it didn't sound like everything else I've done". Darkchild stated that while working with him, Spears was very "hands-on" and "had a lot of ideas for me."He later commented he had produced two songs for the album, with one of them featuring Travis Barker. Darkchild added that the song "[has] this rock feel which is out of the box, out of my norm, and I think it's out of her norm as well."On February 8, 2011, Spears tweeted she was in the studio with will.i.am. He described the collaboration as "a monster. It's mean, pretty, edgy, next level. [...] She's singing fresh over it. It's something that today needs."Spears later commented that she is a fan of the Black Eyed Peas, and would love to work with will.i.am again the future. She also explained that she discovered Sabi through a friend recommendation, and had always wanted to feature a new artist in one of her albums, hence they recorded "(Drop Dead) Beautiful". Luke spoke to Rolling Stone about the direction of the album on February 2, 2011, commenting that the final tracklist had not been chosen. He added, "We're in the middle of it right now. [...] We're working with a lot of producers and overseeing it with her A&R and record label and management and trying to make something cohesive."William Orbit confirmed he had co-written a track for Spears with Klas Åhlund, but it was left off the final track listing.On February 10, 2011, Spears described Femme Fatale on a Twitter chat as "moody, edgy pop with A LOT of energy" with "a few mid-tempos that could be considered ballads".In an interview with the V she further commented on the album stating, "I wanted to make a fierce dance record where each song makes you want to get up and move your body in a different way. That's what I want from the music I listen to. This record is for the clubs, or something you play before you go out at night. It's definitely my edgiest and most mature sound yet. [...] There are songs on this album that don't sound like anything else and are completely revolutionary, but I also believe that this album expresses where I am today as a woman and is an evolution of who I am. [...] I think Femme Fatale speaks for itself. [...] I think it's the best album I have ever made. There's nothing to say. I'll let the music speak for me."
On February 2, 2011, Spears announced the album's title through her Twitter account, and also posted an image of the album cover.Following the announcement, the title became a trending topic on Twitter, and then went on to become the tenth longest-running trend on the site, as well as the first music related trend to break the top ten. Spears tweeted, "Can't believe Femme Fatale has been trending 6 days. You guys are my motivation every single day. I love u all!"Femme Fatale is set to be released on March 29, 2011, primarily in a standard (soft pack/wallet packaging) version, and a deluxe version (expanded soft pack with additional booklet pages), which will feature three or four additional tracks. A premium fan edition will also be released, including a limited edition 32-page hardcover photo book, the deluxe edition CD with exclusive artwork, a 7" vinyl picture disc with "Hold It Against Me" and the full album digital download on the street date.Spears shot the artwork on January 28, 2011.Promotion for the album will be met with "a major TV event to launch [it]" and a TV campaign, which will feature a variation of spots. The promotional rollout will extend to advertisements from the Internet to the side of taxicabs, a "LGBT/Lifestyle campaign," and worldwide online fan contests.On February 10, 2011, during a Twitter chat, Spears confirmed she would make promotional appearances, and also hinted about a tour, commenting that "I would [love] to visit a lot of places I didn't get to go to on my last tour."On February 25, 2011, Spears announced she would be performing a concert on The Castro, San Francisco at Good Morning America on March 27, 2011 with the performance airing the following Tuesday, March 29. In addition to her performance on Good Morning America, Spears is also set to make appearances on The Ellen DeGeneres Show and the 2011 Kids' Choice Awards. She also confirmed a US tour starting in summer 2011 to further promote Femme Fatale.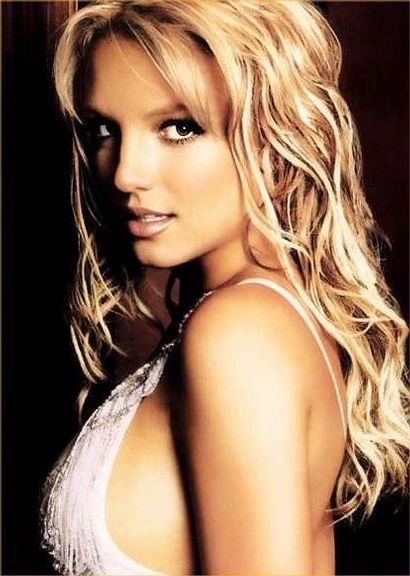 Britney Spears Beautiful Hair
Britney Spears Party Fashion
Britney Spears Cover Album