Alicia Augello Cook (born January 25, 1981), better known by her stage name Alicia Keys, is an American recording artist, musician and actress. She was raised by a single mother in the Hell's Kitchen area of Manhattan in New York City. At age seven, Keys began to play classical music on the piano. She attended Professional Performing Arts School and graduated at 16 as valedictorian. She later attended Columbia University before dropping out to pursue her music career. Keys released her debut album with J Records, having had previous record deals first with Columbia and then Arista Records.
Keys' debut album, Songs in A Minor, was a commercial success, selling over 12 million copies worldwide. She became the best-selling new artist and best-selling R&B artist of 2001. The album earned Keys five Grammy Awards in 2002, including Best New Artist and Song of the Year for "Fallin'". Her second studio album, The Diary of Alicia Keys, was released in 2003 and was also another success worldwide, selling eight million copies. The album garnered her an additional four Grammy Awards in 2005. Later that year, she released her first live album, Unplugged, which debuted at number one in the United States. She became the first female to have an MTV Unplugged album to debut at number one and the highest since Nirvana in 1994.

Keys made guest appearances on several television series in the following years, beginning with Charmed. She made her film debut in Smokin' Aces and went on to appear in The Nanny Diaries in 2007. Her third studio album, As I Am, was released in the same year and sold six million copies worldwide, earning Keys an additional three Grammy Awards. The following year, she appeared in The Secret Life of Bees, which earned her a nomination at the NAACP Image Awards. She released her fourth album, The Element of Freedom, in December 2009, which became Keys' first chart-topping album in the United Kingdom. Throughout her career, Keys has won numerous awards and has sold over 30 million albums worldwide. Billboard magazine named her the top R&B artist of the 2000–2009 decade, establishing herself as one of the best-selling artists of her time. In 2010, VH1 included Keys on its list of the 100 Greatest Artists of All Time.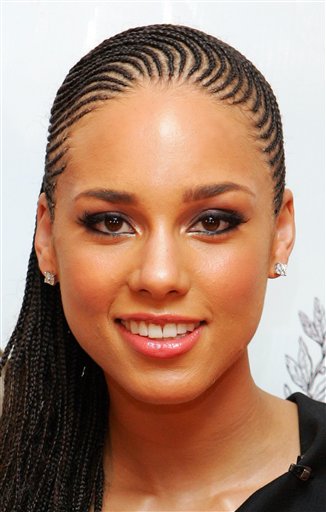 n accomplished pianist, Keys incorporates piano into a majority of her songs and often writes about love, heartbreak and female empowerment. She has cited several musicians as her inspirations, including Prince, Nina Simone, Barbra Streisand, Marvin Gaye, Quincy Jones, Donny Hathaway and Stevie Wonder. Keys' style is rooted in gospel and vintage soul music, supplemented by bass and programmed drumbeats. She heavily incorporates classical piano with R&B, soul and jazz into her music. She began experimenting with other genres, including pop and rock, in her third studio album, As I Am, transitioning from neo soul to a 1980s and 1990s R&B sound with her fourth album, The Element of Freedom. Patrick Huguenin of the New York Daily News stated that her incorporation of classical piano riffs contributed to her breakout success. Jet magazine states she "thrives" by touching her fans with "piano mastery, words and melodious voice". The Independent described her style as consisting of "crawling blues coupled with a hip-hop backbeat", noting that her lyrics "rarely stray from matters of the heart". Blender magazine referred to her as "the first new pop artist of the millennium who was capable of changing music."
Keys has a vocal range of a contralto, which spans three octaves. Often referred to as the "Princess of Soul", Keys has been commended as having a strong, raw and impassioned voice; others feel that her voice is "emotionally manufactured" at times and that she pushes her voice out of its natural range. Keys' songwriting is often criticized for lack of depth, which has led to her writing abilities being called limited. Her lyrics have been called generic, clichéd and that her songs revolve around generalities. Greg Kot of the Chicago Tribune feels that she "[pokes] around for multi-format hits rather than trying to project any sort of artistic vision". Diversely, Jon Pareles of Blender magazine stated that the musical composition of her songs makes up for their lyrical weakness, while Gregory Stephen Tate of The Village Voice compared Keys' writing and production to 1970s music.

Joanna Hunkin of The New Zealand Herald reviewed one of Keys' performances, where Kylie Minogue also attended. She described Minogue's reaction to Keys' performance, saying "it was obvious she was just as much of a fan as the 10,000 other people at Vector Arena". She went on to say that Minogue was "the original pop princess bowing down to the modern-day queen of soul". Hunkin characterized Keys' opening performance as a "headbanging, hip-gyrating performance" and her energy as "high-octane energy most bands save for their closing finale". At the end of her two-hour performance, fans "screamed, stomped and begged for a second encore". Hillary Crosley and Mariel Concepcion of Billboard magazine noted that her shows are "extremely coordinated" with the audience's attention span "consistently maintained". The show ended with a standing ovation and Keys "proved that a dynamic performance mixed with superior musicianship always wins". Throughout her career, Keys has won numerous awards and is listed on the Recording Industry Association of America's best-selling artists in the United States, with 15 million certified albums. She has sold over 30 million albums worldwide and has established herself as one of the best-selling artists of her time.

Alicia Keys Casual Stylish
Alicia Keys Beautiful Make Up
Alicia Keys Beautiful Hair
Alicia Keys Black and White Photo
Alicia Keys Party Fashion
Alicia Keys Flower on Hair
Alicia Keys Long Straight Hair
Alicia Keys Unique Hair Model